The latest edition of the new, 134-page Church Curriculum Study report from Campbell Rinker delivers the latest detailed intelligence on church curriculum products in the U.S. With nearly 100 tables, 20 graphs and scores of user comments, if you publish or provide curriculum, you'll want to check this report out.
The study report features nine sections:
Background and Preferences for Sunday School Curriculum
Purchase Behavior for Sunday School Curriculum
Awareness, Usage and Satisfaction for Sunday School Curriculum
Background and Preferences for VBS Curriculum
Purchase Behavior for VBS Curriculum
Awareness, Usage, and Satisfaction for VBS Curriculum
Midweek Children's Programs
Adult Bible Study
Demographics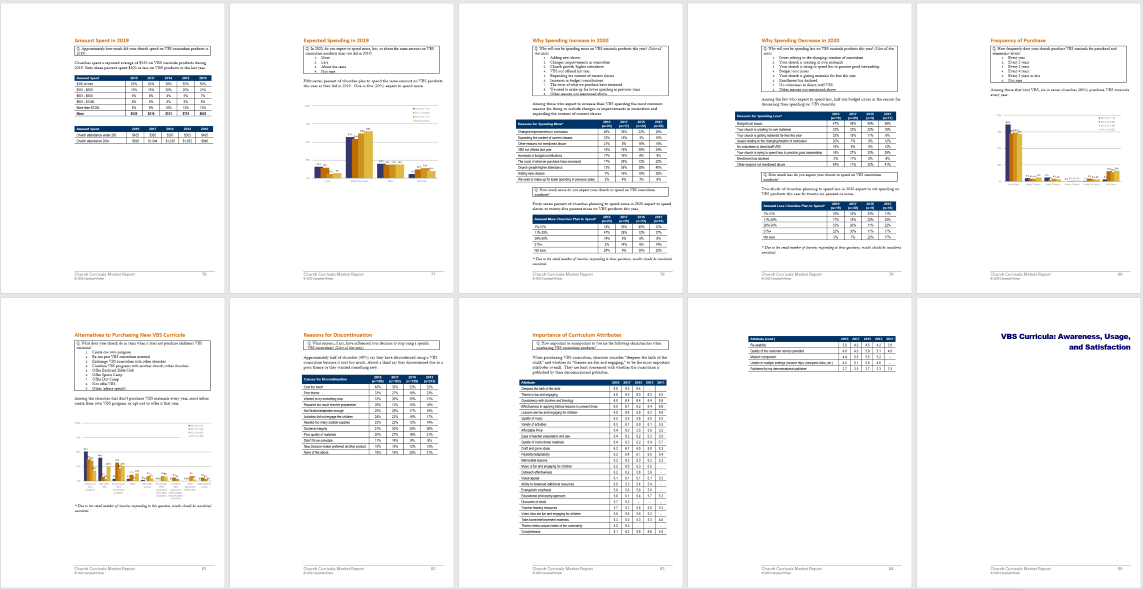 Campbell Rinker independently initiated and conducted our church curriculum study. The results reflect opinions from curriculum users, not Campbell Rinker. In fact, after developing the questionnaire, we asked outside church curriculum publishing pros to review it. They contributed valuable suggestions toward more credible and useful results.
Study Methodology
This church curriculum survey was conducted online from November 2019 through February 2020. We sent about 68,000 e-mail invitations sent to targeted lists of church leaders and staff. For this edition of the study, Campbell Rinker again increased the number of lists used for inviting response. In all, 207 respondents qualified for curriculum questions, agreed to participate, and provided valid responses. This sample size yields an accuracy of ±6.8% at the 95% confidence level.
Campbell Rinker establishes strict rules for responses to be considered valid, ensuring high legitimacy and quality of the data. To correct any variations that new lists might introduce and prevent bias, we also weighted the response by church size and normalized the response by list.
Table of Contents
Below is the table of contents from the 2020 church curriculum study report. You may download a PDF copy of the Table of Contents and Methodology of the report here.
Want to Purchase? Here's how.
The 2020 Church Curriculum Report is now available for purchase from Campbell Rinker. Please contact us for pricing, as this varies according to the size of your publishing organization.
---