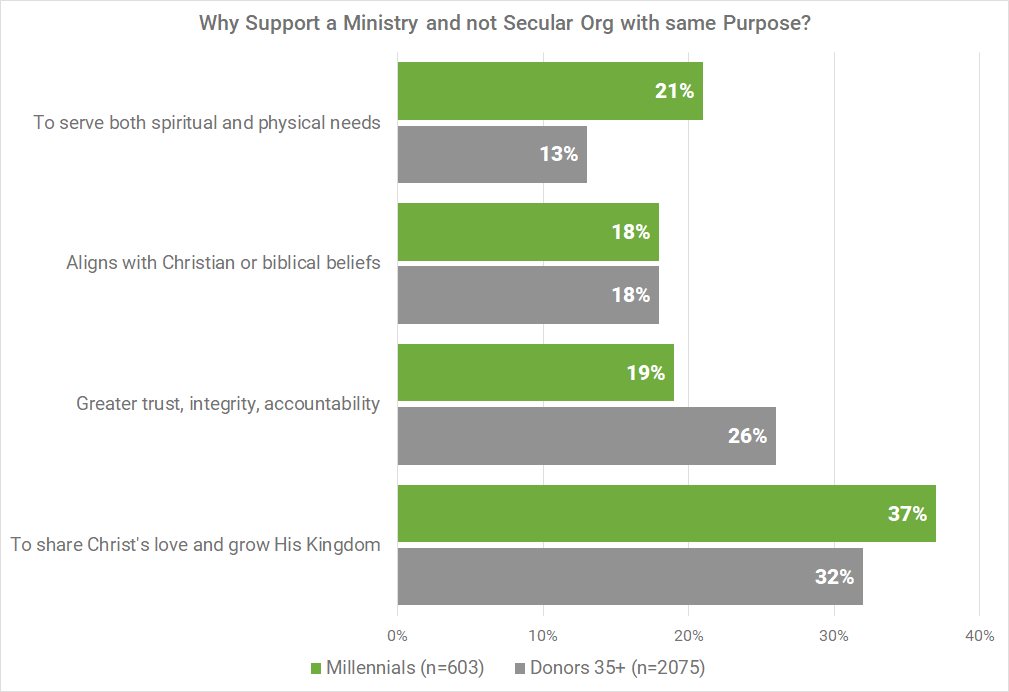 The reasons Millennials offer for giving to a ministry instead of a similar secular nonprofit more often include 'to share Christ's love and grow His kingdom' and 'to serve both physical and spiritual needs.'  In contrast, Boomer, GenX and Silent generation donors are significantly more likely than Milllennials to say they would support a ministry because it demonstrates 'greater trust, integrity or accountability.'
These results and others from Campbell Rinker's survey among thousands of Millennial and older donors for the ECFA reveal several trends.
Millennial donors are significantly more likely to distinguish the spiritual dimensions of a ministry's mission than older donors – more frequently calling out distinctive mission-driven traits such as sharing Christ's love, growing His kingdom, and supporting spiritual needs.
Millennial donors find less reason to implicitly trust a Christian ministry as having more integrity, showing more accountability or deserving more trust than older donors.  The survey also says Millennial donors are more likely to seek third-party validation before supporting any nonprofit (which speaks of less implicit trust.  However, trusting ministries may not make such a difference: another survey of ministry donors found that Millennials considered financial accountability less vital than other important ministry qualities compared to their predecessors).
These are just two of the ways Older and Younger donors feel giving differently, and ministries would be wise to let their donor messaging and content strategy reflect and affirm these views.
Results are from an online survey of 16,100 ministry donors conducted by Campbell Rinker on behalf of 17 ECFA members in November 2016. Visit ECFA for more details.